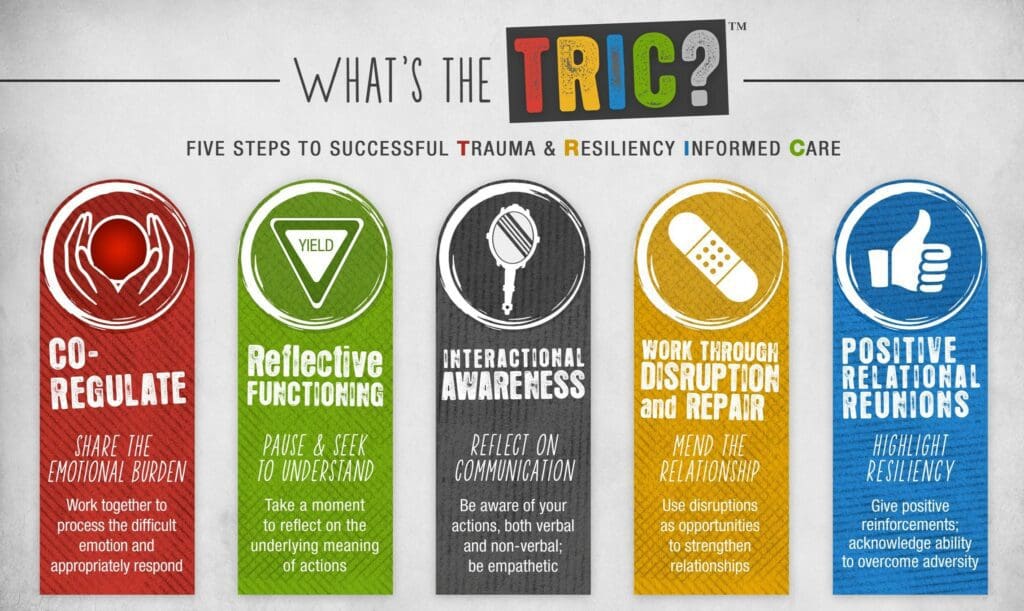 What is Trauma Resiliency Informed Care?
Trauma Resiliency Informed Care shifts the focus from "What's wrong with you?" to "What happened to you?" At Monroe Harding, we use SAMHSA's four R's principle concept of a trauma-informed approach. As a trauma-informed organization, we REALIZE the widespread impact of trauma and understands potential paths for recovery; we RECOGNIZE the signs and symptoms of trauma in clients, families, staff, and others involved with the system; we RESPOND by fully integrating knowledge about trauma into policies, procedures, and practices, and we actively RESIST RE-TRAUMATIZATION.
Our Journey to become a stronger Trauma Resiliency Informed Care Organization
Monroe Harding began its journey to become a Trauma Resiliency Informed Care (TRIC) agency in 2013. This process consisted of planning, consultation, training, evaluation, and supervision by experts in the field of serving youth and creating a culture of TRIC. A key tenet of the culture shift was training all staff, foster parents, and members of our board of directors to understand the impact of trauma on youth development. We learned that trauma-informed care is not an on and off switch but is an ongoing and evolving process. While this was a focus of Monroe Harding for years, this summer we renewed our commitment to TRIC and completed an NCTSN Trauma-Informed Organizational Assessment. We also enlisted the professional guidance of longtime friends and trauma experts Dr. Roy Hutton and Dr. Jon Ebert. Roy and Jon are providing a series of staff trainings to take our knowledge and commitment even further. We also formed a Trauma Champions Team of select staff who will help guide the organization on this continued journey.
How our staff practices Trauma Resiliency Informed Care
"For me, being trauma-informed means taking the time to pause from someone's reaction to a situation to better understand underlying needs that they may be feeling in the moment to bring about the greatest resolution to the issue."
— Monica Beere, Family Support Coordinator
"Being trauma-informed means that you are aware of the person's trauma and are going to act in ways to be nurturing and supportive while they work through their trauma."
–Julie Steele, Family Support Coordinator
"I practice trauma-informed care by letting Reengagement Hub clients lead the conversation about their personal goals. This gives them the opportunity to be the creators and owners of their future without having to live up to an outsider's expectations. As a caseworker, trauma-informed care gives me the tools and opportunity to create a safe space for my clients to reflect, heal, and grow. Working for an organization that is trauma-informed gives me the freedom to be vulnerable and honest about how I am handling the workload or to share when I believe that changes need to be made in order for me to do my job more effectively or to feel more supported."
–Lauren Jones, VOCA Reengagement Hub Specialist
"It is imperative to be trauma-informed for many reasons. The first of which is that all the research now points to traumatic experiences having massive impacts on the way we as humans develop from infancy into adulthood and beyond. Being trauma-informed in this way we can acknowledge the root of pain, suffering, challenge, and resilience in the clients and families we serve. The second reason is that it is the purest way to approach serving and caring for clients at their core. We could do great work on a surface level with the many people we serve as an agency. But because we are trauma-informed, we are empowered to partner with hearts and lives all across Nashville for a deeper and more healing impact beyond service. It allows us to change lives and creates space for hope and healing for our clients and families."
–Robert Bond, Resource Specialist
"It is important to be trauma-informed, because everyone deserves to feel safe and secure in their environment and be treated with compassion and empathy. We may never fully understand everything these children, or anyone for that matter, have been through, but we can help mitigate negative effects by being trauma informed. We need to take care of each other."
–Mary Fugate, Resource Specialist