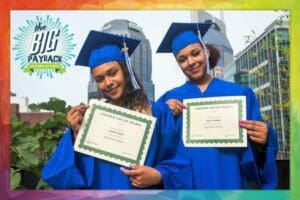 Who doesn't need the opportunity for a second chance sometimes?
Jabreia and Asia are sisters and both were struggling in high school with all the pressures that come with being a teenager. As a result, both girls dropped out.
A friend told Jabreia about Monroe Harding's Youth Connections. Once she found us, we were able to help her discover how she learned best and she enrolled in our Penn Foster education program and one on one tutoring. Jabreia saw that she COULD learn and do well on tests.
When older sister Asia saw Jabreia's determination, she wanted to see if she could also take classes and complete the Penn Foster education program.
Both girls discovered they are extremely bright and met their goals; now Jabreia is working and planning on college next.