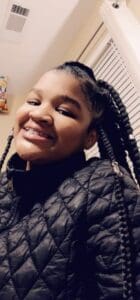 Heaven graduated high school in 2020 and decided to attend Tennessee State University. She needed extra support once her college classes began even though she was receiving help from her high school counselor and her DCS case manager.  Heaven struggled with distance learning, getting her books, and figuring out how to turn her work in. Her advisor signed her up for more than 20 hours of classes even though 12 hours is typical for a new freshman. Heaven did not realize that taking seven classes in one semester was unusual because she is a first-generation college student.
This January, Heaven began working with our college counselor, Ms. Emily. Together they decided that Heaven would be better served at Nashville State where she enrolled in a paralegal program. Ms. Emily meets with Heaven weekly to discuss progress, assignments, and any questions. She even delivers school supplies and snacks to Heaven!
So far, Heaven is having a great semester! She's doing well in her classes, and she's much more relaxed. Recently, in a zoom meeting with other students, Heaven announced to everyone how grateful she was for Ms. Emily's help and how much she is enjoying the paralegal program at Nashville state!
Heaven's story is a great reminder that even the brightest students can struggle in a new academic environment. For first-generation students, the struggle can be amplified. For Heaven, and many others, having a personal connection to someone who will walk the college path with her, makes all the difference.