A few weeks ago, one quiet day at our main office, we received 15 bags of grocery.  The Ladies of Charity showed up at our office with groceries to be used to bless our families, and since then the blessings continue! The Ladies of Charity are a group of Catholic women who volunteer their time and talents to better serve the community and are committed to using their resources to improve the lives of others. They began with the mission of "To Serve Rather Than Be Served," and strive to serve all residents of Davidson county with food or financial help if they are experiencing hardships in their life. A death in a family, a loss of a job, an illness, or being a victim of a crime can create insurmountable challenges that many people who are already struggling cannot overcome.  The Ladies of Charity provide help in those times of crisis.
Recently, the Ladies of Charity were introduced to Monroe Harding through one of our foster parents as well as one of our partners, My Bag My Story.  My Bag My Story provides backpacks and duffle bags to young people in foster care. The Ladies of Charity received funds through the COVID-19 CARES Act and supported Monroe Harding by providing bags full of non-perishable groceries to our foster families and young adults. They provided 70 bags and will continue to provide more  through the end of the year or when their funds run out.
During this season of uncertainty for many, the generosity of the Ladies of Charity and their grocery delivery to our families and young adults is making a difference.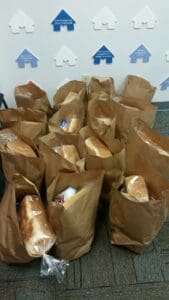 "We think that poverty isn't only being hungry, naked and homeless. The poverty of being unloved and uncared for is the greatest poverty."
– Mother Theresa