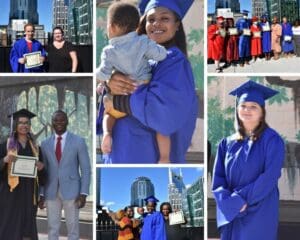 On June 3, Monroe Harding held its first in-person event since March 2020, celebrating a record number of graduates! Students, families, and staff members celebrated the academic achievements of the 28 graduates from various high schools, HiSET, and post-secondary programs. The ceremony took place on the rooftop garden at Youth Connections, Monroe Harding's Resource Center, in downtown Nashville. Board member, Reggie Ford, and graduate, Tyra Smith, inspired the graduates and the audience with inspirational speeches. 
"I feel ready to finally look ahead instead of looking back or over my shoulder.  I'm ready to think about my future," shared one of the graduates.
Student Highlights
Devon Yokeum, a HiSet student, earned honors in math, science, reading, writing, and social studies.

Dimonte Smith, an online diploma student, earned the highest GPA for 2021.

Tyra Smith graduated from Nashville State Community College with an associate degree in
psychology. Tyra is a part of the National Honor Society and a Dean's List recipient.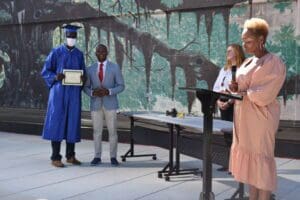 Additionally, 10 students were awarded Monroe Harding scholarships to help with financial obstacles to education. The funds will be used for tuition, transportation, technology, books, housing, and childcare.
We're proud of all of our Monroe Harding scholars, and we can't wait to find out what's next for them!