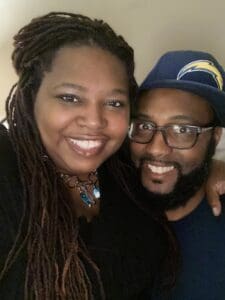 Michael and Paula Porter are a loving and caring couple who each come from large families. They have a passion for connecting with children and families through mentoring, teaching, and exhortation. They have one adult daughter who shares this passion as well and assists frequently. Together, they are advocates for children in foster care as well as those who need that "one caring adult". After spending decades teaching and mentoring children, they decided to become foster parents and extend love and resources to the state's most vulnerable children. They chose Monroe Harding because of their long history and reputation of being caring, available, resourceful, knowledgeable, and efficient. What they enjoy most about being a foster parent is spending time with the children, and watching them grow, learn and mature. Their hope is that every child feels loved, heard, and connected.
Thank you, Porter Family, for opening your hearts and home to provide a loving and nurturing family environment for children!
Want to learn more about becoming a foster parent? Please contact us and find out more about how you can change a child's life.